Native Discovery Explorers Summer Camp 2012 - Mt. Sequoyah Campus Pics
Garden to Park Camps - 3 weekly sessions- Completed July 11,2012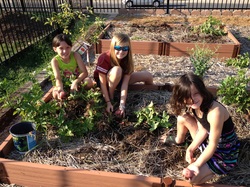 Washington Elementary's "Wildcat Patch" and gym hosted several camps this summer with many Washington and other Fayetteville school district kids. Kids enjoyed working and learning about gardening. Art, creative writing, and a reader's theater were also enjoyed by kids during the morning hours in addition to recreation activities. Afternoons were busy at Wilson Park's swimming pool, volleyball court, and castle. Starlight Skatium was also a weekly recreation opportunity for kids to have some fun.
GP Camp kids had the opportunity to harvest from the garden and donate the vegetables to 3 other Washington Elemetary families who normally do not have access to fresh organic produce from a local garden. Eight children were so excited to know their veggie gifts came from their very own school's garden.
The harvest basket donation can be viewed in the slideshow below. Special thanks to Mr. and Mrs. Lechtenberger for their veggie delivery assistance to the Washington families.

---