Lake Sequoyah Cleanup


We will be meeting at 9 a.m. tomorrow at the marina (see attached map for location). Once you get there and signed in we will be handing out supplies and getting everyone situated with a specific cleanup area. Folks will head to these spots and work until a little after 11, when everyone will start heading back the marina. As you pick up trash you will be able to leave full bags either along the road or the shore- we will have someone coming around in a truck to pick those up, and a designated spot along the shore line.
We will have raffle drawing prizes and pizza at 11:30.

I want to make sure that everyone comes appropriately dressed for the cleanup. Long pants and sleeves are strongly encouraged since we will be in some brushy areas which may contain bugs and possibly snakes. It will be very valuable if you have and can wear rain/muck or hiking boots that you don't mind getting muddy because this will enable you to help us clean right along the lake shore where a lot of the debris washes up and floats around all year, or gets marooned when the lake waters go down. These spots are typically hard to get to but we will have a boat ferrying groups to the shoreline tomorrow and it's a lot of fun to work in these spots. If you don't have the gear, don't worry at all- we have plenty of dry spots higher up that need some TLC.

Thanks again- the weather is looking great and I think we will get a lot done out there.
Please let me know if you have any questions and I will see you Saturday morning!

---
Location

Lake Sequoyah - City of Fayetteville Park

6608 E Lake Sequoyah Dr
Fayetteville, AR 72701Phone: (479) 444-3475
---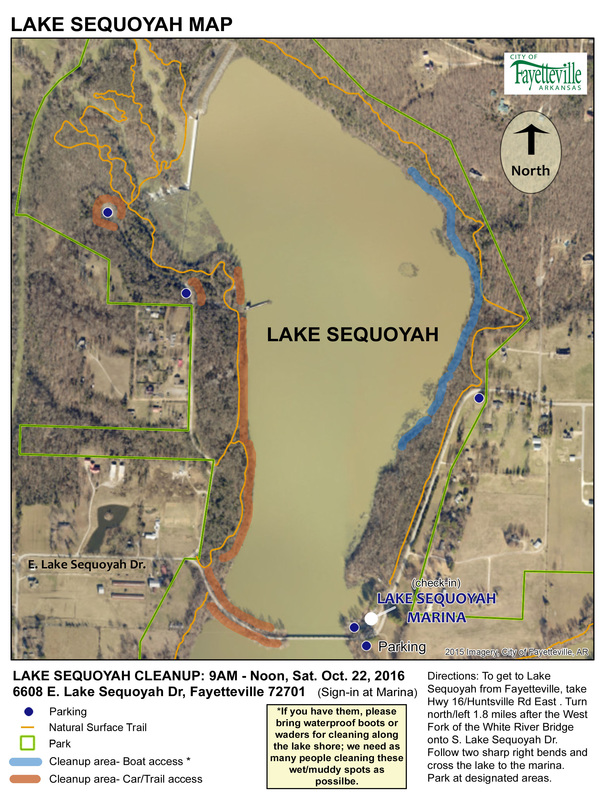 ---